DCS_MovingMap is a small Windows program that can display a moveable and zoomable aviation map of the respective DCS World theatre with the ownship position and position of other units/players (if allowed) on a local screen or network computer or tablet.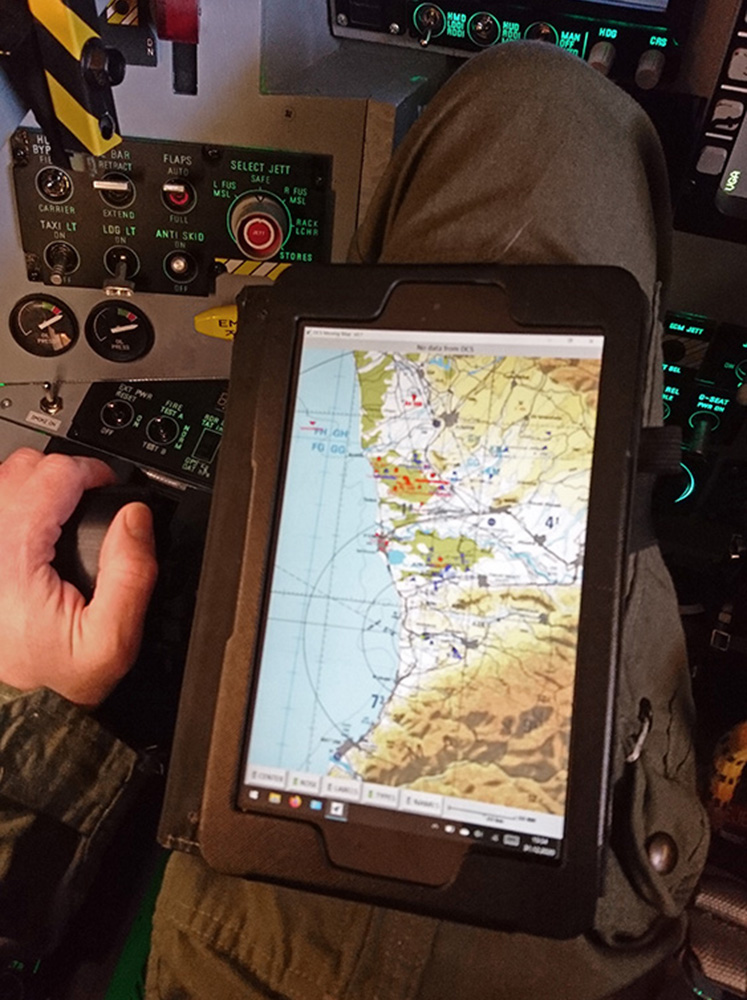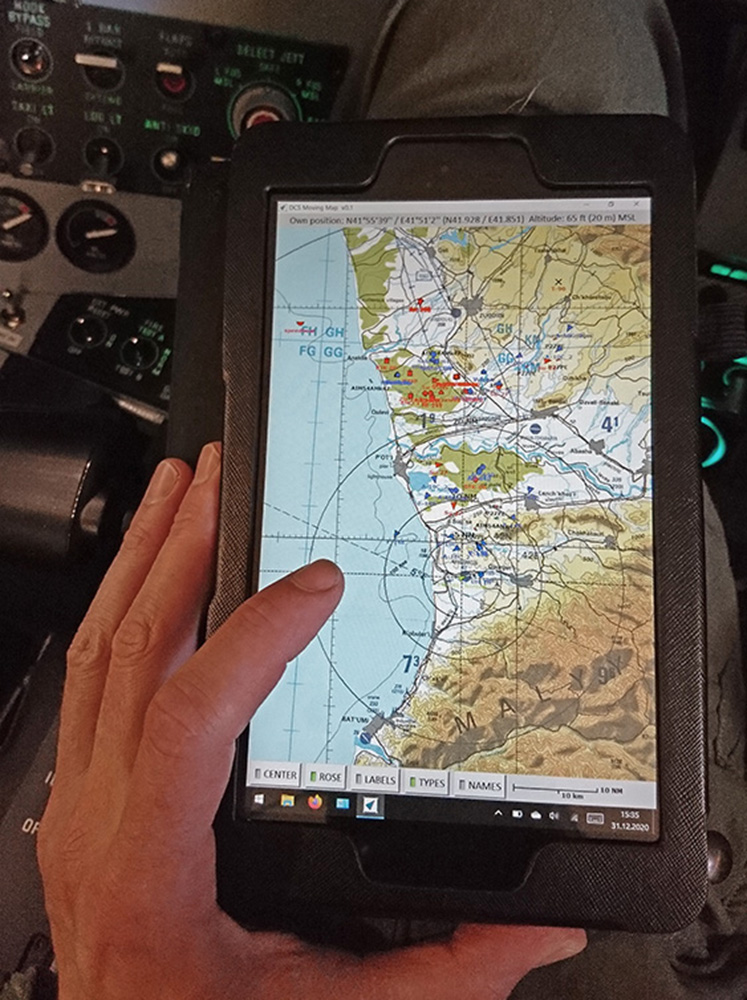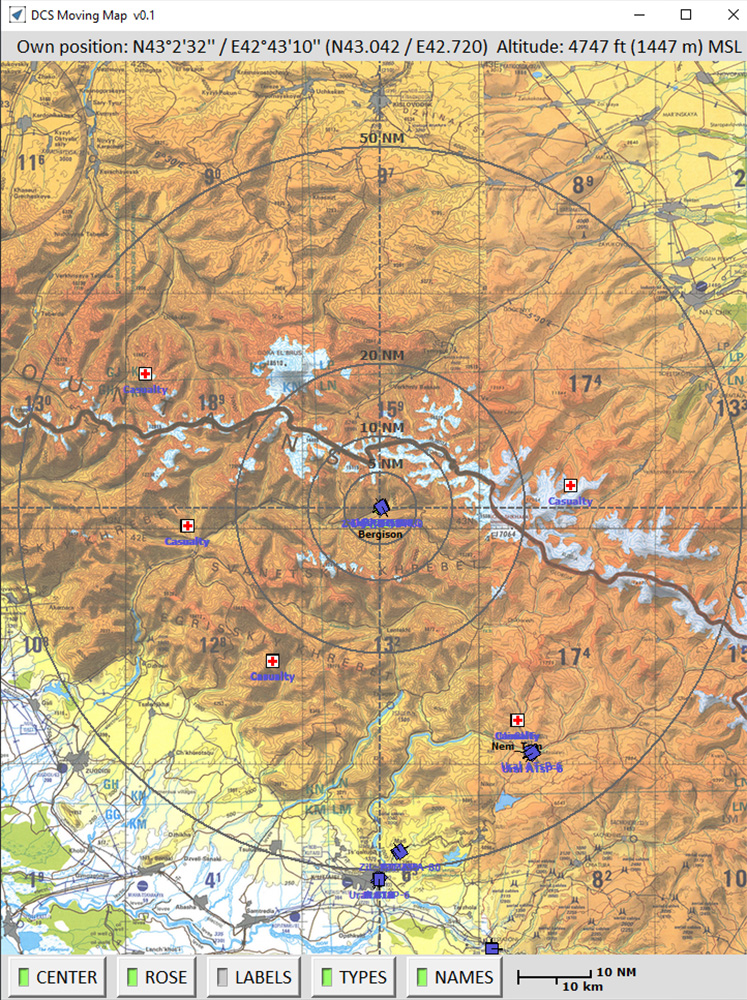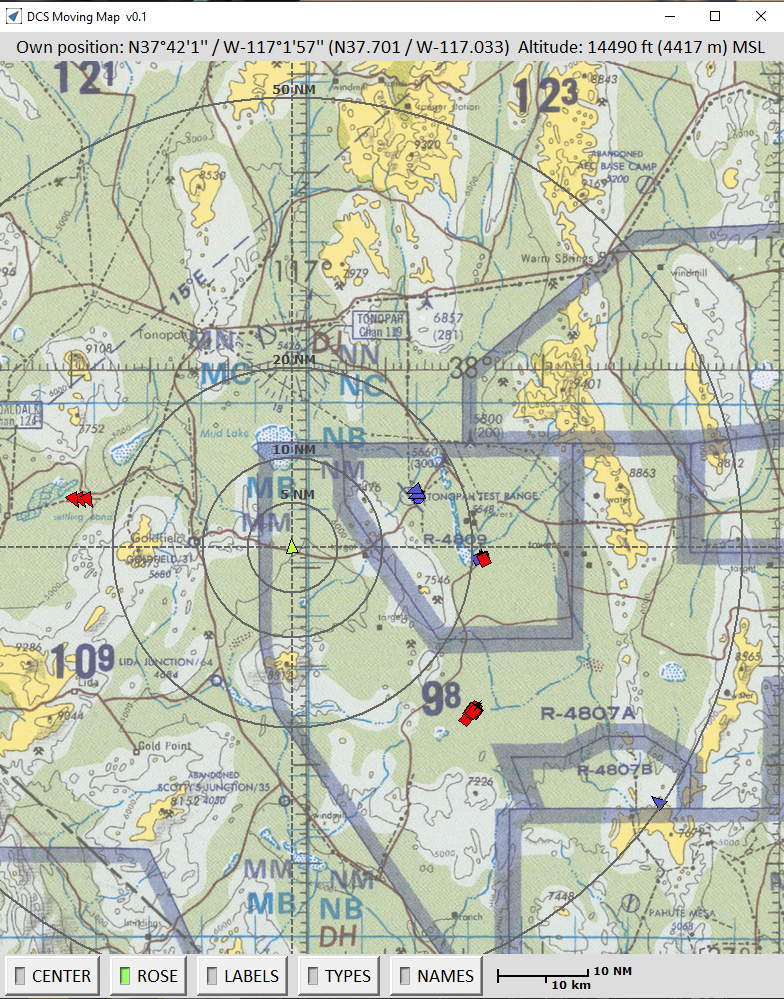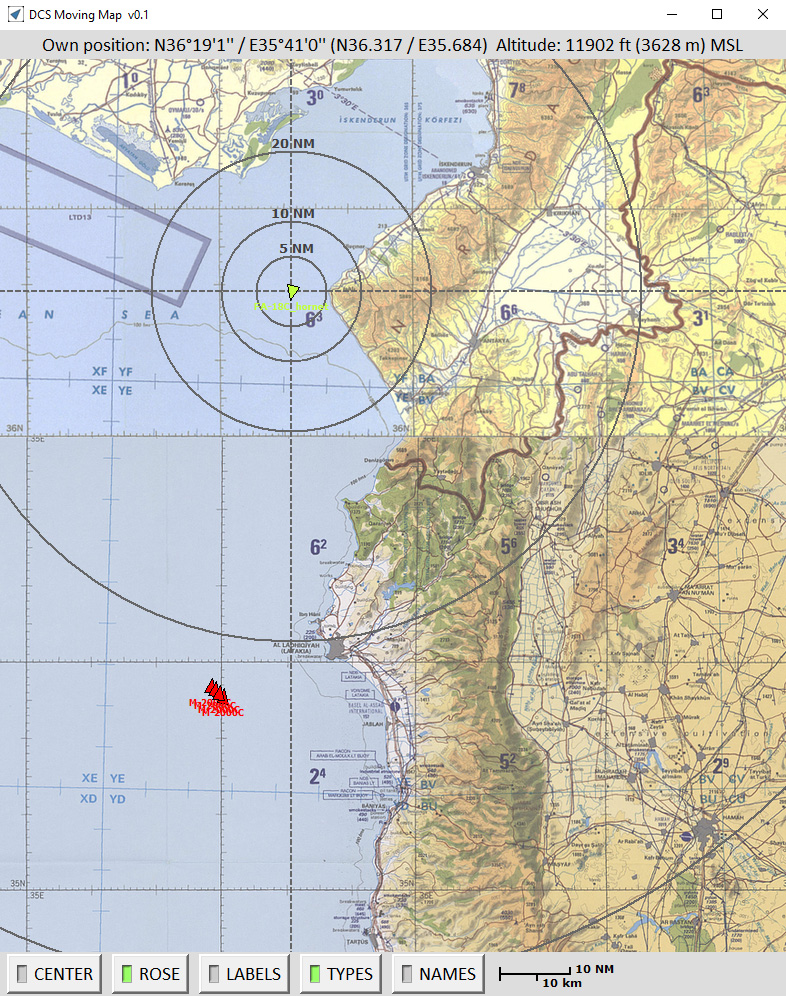 It can be used by pilots for navigation ('where am I?') and increased situational awareness ('where is everybody else?'), or by ATC/AWACS players as a radar screen.
Features
Available maps: Caucasus, Nevada, Syria and Persian Gulf.
Displays ownship position as a symbol on the map and as numerical values, as well as your altitude in ft and m.
Displays other units (if allowed by the F10 View Options) as color-coded (

friendly

/

enemy

/

neutral

) symbols on the map. Callsigns, types and other values (like altitude) are also selectable for display.
Observes set F10 View Options in the mission editor, so only allowed units will be shown (e.g. map only, player only, friendlies, all units).
Works in single and multiplayer.
Map symbols
NOTE: Airborne and moving ground units will point in the direction of their current magnetic heading.
| | | |
| --- | --- | --- |
| Ownship | SAM | Casualty (SAR server only) |
| Airplane (enemy) | Ground unit | Dead unit (crashed, killed or shot down) |
| Helicopter (friendly) | Naval vessel | |
Updates
ver 0.22
(17. Mar. 2021):
A small update to show neutral coalition units in white color coding.
ver 0.21
(11. Mar. 2021):
Corrected a bug that prevented data from being sent correctly in multiplayer.
ver 0.20
(28. Feb. 2021):
DCS_MovingMap can now read the missions F10 View Options, so mission designers can define which units are shown using the Mission Options (e.g. map only, player only, friendlies, all units).

DCS_MovingMap now has its own dedicated tab in the DCS Special Options menu, where the host ip adress can be entered (no more editing of .lua files required).
Many thanks to Ugene for his help and contribution to this update!



Important NOTE:

if you update to this version, please follow the new installation intructions below and remove all entries to your export.lua as well as the DCS_MovingMap_export.lua file.


ver 0.11
(22. Feb. 2021):
Extended Caucasus map area from N40.5° to N47° and E035° to E046°.
Installation
1.
Download
and
extract
the
DCS_MovingMap.zip
file linked below to a convenient location on your local hard drive, network connected computer, laptop or tablet (Windows OS only at the moment).
Download:

DCS_MovingMap.zip (89,9 MB)
version 0.22
(open beta)
downloaded 590 times.
NOTE: Windows Defender might report a trojan or virus threat warning. As I have definitely not included any such code, you may disregard this warning. See "Known Issues" below for explanation.
The program is a standalone app that does not require installation. As it needs data from DCS though, you'll need to manually copy some files to the DCS SavedGames folder as described in the steps below:
2.
Copy
the folder

MovingMap
, found in the just extracted
DCS_MovingMap\Mods\Services\
, to the
C:\Users\UserName\Saved Games\DCS[.openbeta]\Mods\Services\
folder on your DCS computer.
3.
Copy
the file

movingmap-hook.lua
, found in the just extracted
DCS_MovingMap\Scripts\Hooks\
, to the
C:\Users\UserName\Saved Games\DCS[.openbeta]\Scripts\Hooks\
folder on your DCS computer.
4.
Run DCS
and navigate do the
OPTIONS
>
SPECIAL
>

MovingMap
screen.
Enter the IP adress
of your device that runs DCS_MovingMap. To find out your IP adress, follow
this
instructions.

DONE! Now you can run

DCS_MovingMap.exe. Enjoy!

NOTE: DCS_MovingMap can be launched before or after DCS, or at any time during a mission.
Known issues
Issue: Some devices seem to cut their network transfer after some time of continuous data stream, when using "192.168.0.255" as IP adress (send to all network devices). I don't know why or what is causing this (any hints are highly apprechiated).
Solution: Use the dedicated IP adress of the device instead.
Issue: Windows Defender might report a trojan or virus threat warning when running DCS_MovingMap.
I have converted the Python script into a Windows executable using PyInstaller. There are several reports that Windows may identifiy such files as containing viruses or trojans due to the fact that hackers sometimes use similar packing techniques. I can confirm that I have definitely NOT hacked virus or trojan code into my software.
Solution: Allow DCS_MovingMap to run and add it to the trusted programs list.
Disclaimer and Feedback (error reporting)
This software is still in open beta, which means very few people except me have had the chance to test this program. Use it at your own risk and feel free to point me to any problems, misbehaviours and errors that might pop up. EACH feedbach (good or bad) is highly apprechiated! Write me to bergison@simpit.info or leave a comment below:


FlyTrapster posted on 23.6.2021 at 2:12
Hi, I have the \"no data from DCS\" and \"Sorry, no map available for this area\" when I launch the application. Looking in the export.lua file I see no entries for this application, should I see something that calls it?


Bergison
Hi FlyTrapster, data export is done via hooks and not via the export.lua. Make sure you follow the installation procedure described above step by step. Let me know if it still does not work.


FlyTrapster
Thanks for the response. I have followed the step by step instructions. The only thing I can think of is that I have my DCS installation together with movingmaps executable on a different internal disk to my saved games directory. I also have SRS and TACView installed.
If I run 2 instances of movingmap I do get the sockets notification, and my firewall is not complaining about anything. I have also opened port 50000 on my router.
I have tried both the machine ip and localhost ip without any success.
What should I try next?



WIKI posted on 23.6.2021 at 14:06
Bonjour,
Avez-vous la possibilité d'agrandir la carte Syrie suite à l'ajout de Chypre, et d'une partie Est de la Turquie ? L'application est excellente. Bravo et merci.

Translated by Google: Hello, Do you have the possibility to enlarge the Syria map following the addition of Cyprus, and an eastern part of Turkey? The application is excellent. Well done and thank you.

Bergison
Bonjour WIKI, I am working on a new release which is (hopefully) going to run on Windows AND Android devices. This will have the new Syria map included. Stay tuned!



bob posted on 02.6.2021 at 22:26
Hi,
I would like to install DCS_Movingmap but the download link does not work.
Thanks

Bergison
Hi bob, I just checked the link and it seems to be working. Could you please try again (maybe in a different browser)?


bob
I just tried another browser and same problem but as you said the link works I turned off me antivirus and it downloaded ok! Thanks for your help.

bob
All is working fine.. Great program. Thanks a lot

Bergison
Hi bob, I'm glad to hear that. Thanks for sticking with it!



sobe posted on 25.5.2021 at 19:03
Great program. I am running the map on my 3rd screen in portrait mode (1080x1920) and the labels are very blurry and hard to read. Great job.


Bergison
Hi sobe, I have to say that never tried the program in such a high resolution. Will look into it and hopefully find a solution. Thank you for this information!



Pascoal posted on 11.5.2021 at 18:06
Great work!
Are you able to create a webserver from this? That way, shouldn't have any compatibly problem between platforms and the need for different apps.
Thanks for this software.

Bergison
Hi Pascoal, that would be an elegant solution, but unfortunately I don't have any expertise/experience in creating webserver apps, so at the moment that is not an option.


Graham posted on 19.4.2021 at 13:33
Hi Bergison, I am about to download your very interesting DCS_Moving map onto my Windows PC. If I run this from the same drive as DCS do I still need to copy the ip address into DCS. Thank you.

Bergison
Hi Graham, yes you still have to provide an IP adress, so DCS knows where to send the data to.
On some systems, 127.0.0.1 (localhost) seems to work as well. If not, just enter your DCS computer's IP adress.



Jean-Pierre Aminta posted on 19.4.2021 at 14:32
Hello Bergison, Thank you for this wonderful program and for your work. Do you think it is possible to use cards with better resolution? Zoom level 5 seems blurry. Have a good day and thanks again.

Bergison
Hi Jean-Pierre, I experimented with higher-resolution maps but they drastically increase loading and response time on weaker systems like tablets. The current version is a compromise between fluid display and resolution.
I am still working on the Android app version and hopefully can use better resoluton maps there.



YSIAD_PIR posted on 04.3.2021 at 1:28
Any other trouble shooting tips that can be shared?

Bergison
Hi! "trouble shooting" tips for what exactly? If you have issues with the program, please specify and I will try to help.



shan_aya posted on 21.2.2021 at 21:51
how change color of "OWN PLANE" ?



shan_aya
it's not really visible on caucasus ( for me :) )


Bergison
Hi shan_aya,
thanks for reporting this issue. I will add the possibility to change the ownship color with the next update!



WIKI posted on 22.2.2021 at 14:15
Petite question : Y a t'il possibilité d'agrandir la map Caucase (vers le N/NW) pour avoir l'aperçu sur la carte pendant le vol dans ce secteur ?
Excellente application.Très bon travail !!!

Translated by Google: Quick question: Is it possible to enlarge the Caucasus map (towards the N / NW) to have the preview on the map during the flight in this sector?
Excellent application. Very good job !!!

Bergison
Bonjour WIKI,
to serve your request, I have enlarged the Caucasus map to now span the area from N40.5° to N47.0° and E035° to E046°.

Google translator again: pour répondre à votre demande, j'ai agrandi la carte du Caucase pour couvrir maintenant la zone de N40,5 ° à N47,0 ° et E035 ° à E046 °.


Toby posted on 09.2.2021 at 5:13
Great idea, great tool, Bergison. Thank you for making tactical flight simulation even better. Our group is using your moving map with ovrdrop to place it in our DCS Eagle pits. Works great in VR.

Bergison
Thanks Toby, I'm glad you like it!



shan_aya posted on 03.2.2021 at 18:16
great job !works perfectly :)
waiting for ios support or browser support

if you want to have ios & android support, perhaps launch movingmap into browser ?you need adapt your stuff 1 time not for 2 platform...


dances posted on 01.2.2021 at 4:56
Hi, Does it matter what order we run the program in? Should we first launch DCS and then the moving map, or moving map and then DCS? Or wait to launch until we are in a mission? I am not getting a consistent map displayed, sometimes it says there is no data from DCS, other times it works. In both cases though, it interferes with SRS, so perhaps I have a conflict in the export.lua.
Cheers,
Dances

dances
Ok -- got it sorted -- I placed your code in the first line of the export.lua instead of at the end, and that fixed my SRS issue. Then I started the program first, and then DCS and it is working great. Thank you for this amazing piece of situational awareness. This breathes new life into the DCS F-15 until ED gives us a full fidelity. Thanks for your contribution to flight simming!

Bergison
Hi dances, thanks for reporting this and your efforts in finding a solution! It should make no difference wether DCS_MovingMap is launched before of after DCS, but problems with SRS seems indeed to be related with the position within export.lua. I will look into this and add it to the 'known issues'. Thanks!



Capdis posted on 30.1.2021 at 18:05
Hello
Congratulations for your realization.
When we steal in networks the card is functional only at the transfer host and not at the customer's... Is there a solution to make the cartography functional from everywhere ??

Thank you

Bergison
Hi Capdis,
I'm not sure I understand your question. You got it running on the host (DCS computer) but not on network clients?
Have you entered the clients IP adress in the DCS_MovingMap_export.lua file? Or maybe your firewall or router is blocking port 50000.



Nicolas posted on 29.1.2021 at 13:03
Hi, thanks for this soft.
When i start DCS Moving Map, the message below appears ...???


Do you have any idea to solve this issue ?
Best regards


Bergison
Hi Nicolas, could it be that you COPIED the DCS_MovingMap.exe to the desktop instead of LINKING to it from there? This error is because the program looks for a file that should be in it's directory. Try to run DCS_MovingMap.exe from WITHIN it's directory, I think this should solve the problem.



WIKI posted on 29.1.2021 at 17:08
Bonjour,
Merci pour votre application, c'est geant !!!! Par contre, impossible d'afficher la map Syria et Persique Gulf. Il y a une manipulation à faire, ou un ajout de code pour les cartes.
Cordialement,
Phil


Translation: Thank you for your application, it's great !!!! On the other hand, impossible to display the Syria and Persian Gulf map. There is a manipulation to do, or an addition of code for the cards.

Bergison
Bonjour Phil, no there is no extra code you need for the Syria and Persian Guld maps. Just place your unit within the maps coordinates and the correct map should load automatically. I just re-checked on my system and both maps work. Please explain what the program does (e.g. does it show an error message?). Does it get data from DCS (e.g. shows your altitude) but not the map?



Nightstorm posted on 26.1.2021 at 15:41
If running this on the local PC running DC. Can you use the loopback IP address for the LUA? 127.0.0.1
That way if the IP changes it wouldn't care as the loopback is always the same.

Nightstorm
And this is really cool. Nice work!

Bergison
On some systems 127.0.0.1 worked, on others it didn't. I think it does not depend on the software. You can also try 192.168.0.255 which should send the data to all connected devices (also local), irrespective of their IP.



HILOK posted on 23.1.2021 at 13:04
u da man! : )